Force Awakens: Rey Cosplay Build
Updated: Sep 26, 2019
I love Rey's Scavenger costume.
The drape of the tabard always stood out to me .
I decided to make the tabard, shirt, & pants.
Pattern Name: M7421 – Misses' Criss-Cross Tabard, Top, Cropped Pants, Gauntlets, Belt and Cuff.
Size Range: McCall's (Big 4) sizes Small (8-10) through Extra Large (20-22). Corresponds to a 29.5″ (75cm) – 44″ (112cm) Bust and 31.5″ (80cm) – 46″ (117cm) Hip.
What size did you make?: I made the size 22.
I found the fabric I was looking for at Joanne's. The one on the left is a cream colored cotton/linen, and on the right it's a crinkle gauze.
I first started working on the tabard. The pattern called for putting elastic in and gathering the shoulders, which I decided to dismiss. I felt like Rey's costume didn't have elastic or gathered shoulders.
Next was to create the shirt. The shirt was so simple. The pattern calls for you to put buttons in the front of the shirt on a panel, I decided to dismiss this as well, because Rey's costume just looks like she has a V for the neckline.
Creating the pants was super simple & pretty straight forward.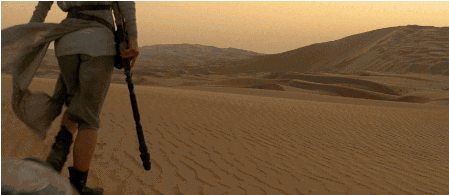 Rey's tabard, shirt, and pants. Next i'll have to dye
the fabric and weather it.
Miscellaneous details for the rest of the cosplay.
Belt: Faux leather and felt from JoAnn's

Wrist cuff: Faux leather and faux suede from JoAnn's

Boots: Piper V Brown linen boots by Po-Zu. The "real" Rey boots, as worn by Daisy Ridley are the Piper V Dark Brown boots
#rey #reycosplay #reycostume #reyforceawakens #forceawakens #McCallm7421 #cosplay #starwars #starwarscosplay #rogueuniverse